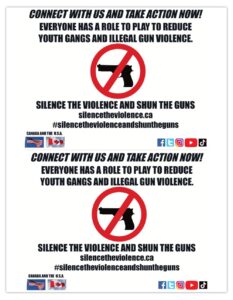 Connect with us and take action now! 2 in 1 flyer.
$6.00 CDN each
Social and economic exclusion.
At-risk youth and youth gangs.
Illegal gun ownership and weapons.
Domestic violence.
Violence by the police.
Racism.
Place this promotion flyer everywhere.
Promote inexpensively Silence the Violence and Shun the Guns' economic stimulus solutions to reduce youth gangs and illegal gun violence by going here, copy the image "Connect with us and take action now!", Note: 2 images can fit on a sheet of 8 1/2 x 11, print as many copies as you choose, cut each sheet in halves and then tape or staple them in high traffic places. Where? On your door at home, Your automobile, In your neighbourhood, At your work, Bus shelters, Light and telephone posts, Subway station entrances, Schools, Community boards, Everywhere! Tools: Tape, An exacto knife and a heavy duty stapler which all can be found at your local dollar store. Set a quota for yourself, for example, post 10 flyers each day. That will be only 10 minutes of your time but over time, it will make an impact when people start connecting to Silence the Violence and Shun the Guns' website and/or social media. Be sure to check on the ones you had posted in the past to make sure they are still visible. Would you rather have have us send you a copy instead?  Just click on the add to cart link above.