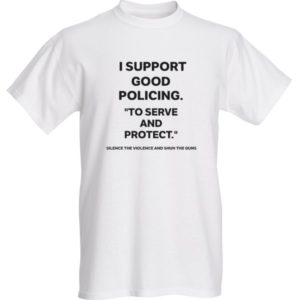 $25.00 CDN each
- Good police must be highlighted.
- T-shirt brands: Fruit of the loom and the authentic t-shirt company.
Unfortunately, the police gets a bad rap.  You rarely hear stories in the media concerning all the good things they do, daily.  Silence the Violence and Shun the Guns' branding executives have enjoyed the interest of the police when they are working at different spots in the G.T.A.. We have heard that police will pull over just to inquire what our initiative is all about. Some have provided their contact information and some have even bought our items.  The interesting observation is that these purchases were made well before a lot of clarity was provided, as the founder was still studying and planning how to make the best impact when the time came to execute this proactive initiative. The time to act is on the horizon.  Now it is very clear how this problem will be approached and, as a result, there has been noticeable increase in sales.
It was overdue for us to make it very clear that not every police officer should be mistrusted and disrespected. Police are people too and that means, unfortunately, there are good ones and bad ones. Let's exercise common sense. Visit the main Facebook page: www.facebook.com/silencetheviolenceandshuntheguns/ in the shop and photos section or the Canadian Facebook page: www.facebook.com/silencetheviolenceandshunthegunscanada/ in the photos section to see the entire line of items. Buy here!