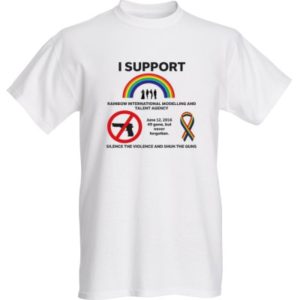 Discontinued!
$25.00 CDN each
- Social and economic inequality.
- Violence against LGBTQ.
- Orlando nightclub shooting on June 12, 2016.
- T-shirt brands: Fruit of the loom.
Those who lost their loved ones in one of the biggest gun related massacres in U.S. history wear this t-shirt so that everyone who sees it never forgets. This is one of a number of items for the LBGTQ product line. A consistent conversation ultimately leads to results. Visit the main Facebook page: www.facebook.com/silencetheviolenceandshuntheguns/ in the shop and photos section or the Canadian Facebook page: www.facebook.com/silencetheviolenceandshunthegunscanada/ in the photos section to see the entire line of items. Buy here!