The Silence the Violence and Shun the Guns wrist bracelet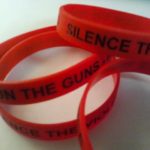 $20.00 CDN each
- Social and economic exclusion.
- At-risk youth and youth gangs.
- Illegal gun ownership and weapons.
- Female violence.
- LGBTQ violence.
- Violence by the police.
- Racism.
1st time buyers usually purchase Violence and Shun the Guns wrist bracelets which has become one of the most effective ways to incite and keep the conversation going.
What does N.OD. stands for that is written on the wrist bracelet?  N.OD. stands for Negotiate on Demand which is our parent company.  Negotiate on Demand is a financial organization that offers economic stimulus solutions. We are using a financial science module to address the rising youth gangs and gun violence problem. And because of us using this module, we are the leading anti-youth gangs and gun violence organization, by far, for the overall work that we do.
A consistent conversation ultimately leads to results. Wearing wrist bracelets are always popular which can be worn daily. Visit the main Facebook page: www.facebook.com/silencetheviolenceandshuntheguns/ in the shop and photos section or the Canadian Facebook page: www.facebook.com/silencetheviolenceandshunthegunscanada/ in the photos section to see the entire line of items. Buy here!