The while being Black injustices card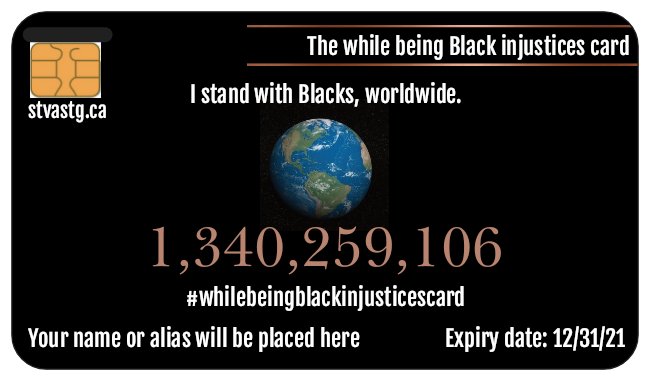 $25.00 CDN annually.
New!
Launched in February 2021
- Ongoing racism is on the rise with no signs of decline.
- For quite some time, non Blacks have spoken out about white privilege too.
- Record growth in hate groups and their violent actions.
- Ongoing violence resulting in death by bad police officers.
- Anti-Black racism marches and demonstrations took place worldwide, by all races and in record numbers, in 2020.
- Deliberate social and economic exclusion continues.
- Resulting in a record number of at-risk youth and youth gangs.
No matter what race you are, stand with the over 1 billion worldwide in the Black community by purchasing your personalized while being Black injustices card and post it on social media. Write above your card: "I bought my #whilebeingblackinjusticescard at https://t.co/4cvTSJ6X1u because I respect the entire Black community." while being Black: at birth, talking, walking, school, jogging, running, driving, denial of economic opportunities, at work and criminal justice reform.  Every time you spot an injustice on social media, post your personalized card with your comments. Proceeds from the sales of the personalized cards will be allocated to our initiative for the reduction of youth gangs and gun violence.
After payment, either text us at 647-606-3519, message us on social media or e-mail us at inquiries.silencetheviolence[at]gmail.com with your proof of payment and simply choose the name you want it to read as:
your first and last name.
undercover brother.
undercover sister.
Black male.
Black female.
We will then send to you your personized card in a Jpeg file either by text message, social media or e-mail usually within 24 to 48 business hours.
A consistent conversation ultimately leads to results by posting your personalized card everywhere. Visit the main Facebook page: www.facebook.com/silencetheviolenceandshuntheguns/ in the shop and photos section or the Canadian Facebook page: www.facebook.com/silencetheviolenceandshunthegunscanada/ in the photos section to see the entire line of items. Buy here!